Pin It Now!
Dear giveaway,
so far,
so
no good.
What's up guys? No one wants to win a free sponsorship ad? I think I know you better than that. Go enter to win!
Dear house,
you smell divine. No, I didn't clean you...yet. I did however bake a pan of scrumptious chocolate zucchini bars.
Dear readers,
I will be sharing the recipe with you all on Monday. You are not going to want to miss it!
Dear self,
you are seriously slacking in the picture taking department. Quit it.
Dear raiiiiiiiiin,
you are awesome. It was another week I was able to wear my wellies. Happy girl.
Dear Mr.
we have been able to spend a lot of quality time together and I am loving it. Tomorrow is no different. Another day date is in the mix.
Dear Dad,
you make me laugh. Counting down the days till we get to see you again.
Dear Fur Baby,
you are ruining my sleep, again. Tonight let's promise each other to fall asleep and stay in that spot till morning. I would like to sleep all the way through the night one of these nights.
Dear Girl's Night,
tomorrow is going to be fun. Can't wait for girl talk and coffee all while knowing my Mr. is having a blast with the guys.
Dear God,
you showed me what it's like to love with your love this week. Thank you for using me to touch people's lives and for showing me how to have Your compassion for others.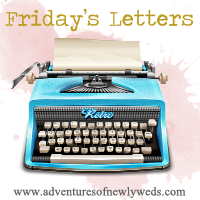 I'm also linking up with Rebekah from
A Bit of Sunshine
for my first ever
Ten on Ten
. Ten pictures on the tenth day of the month. I dug these guys out of the camera roll on my iphone. Nothing extraordinary, but a document of our lives none the less.
{the 10th of August + a pan of cinnamon rolls enjoyed on a Thursday morning}
{a fabric swatch I'm thinking of using to recover our kitchen chairs + a candle from a friend}
{my sis's new iphone cover that I don't in any way shape or form covet [on opposite day] + a cute new tank for a whopping $10 bucks}
{one of my favorite drinks + August's picture in my cupcake calendar}
{our accidental and out of control tomato plant + my broken Kitchen Aid mixer that I am trying to fix with boiling water and a turkey baster. try and figure that one out}