Pin It Now!
Dear Friday,
I'm so glad you are here.
Dear Weekend,
although you look somewhat relaxing
on paper
, we always manage to find ourselves busy. Hoping we can get a little R&R in. I would also like to see if we can squeeze in blueberry picking, hiking, ice cream, some time at the lake, and maybe a movie date on the couch.
Dear Mr.,
I brought home a couple new shirts for you and you resembled a giddy school girl. You also preceded to try both of them on right there in the kitchen to see how they looked. You're cute and oh so easy to please.
Dear Fur Baby,
you puked this week. Yuck! I made daddy clean it up. At least you seem to be feeling like your happy go lucky self again.
Dear God,
this week has been all about learning how to listen. Less talking, more listening. It's a good reminder. Thanks for being patient with me.
P.S.
Only one more day to enter the giveaway! Go
here
and
here
to get the details!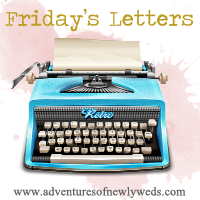 Posts from this week: